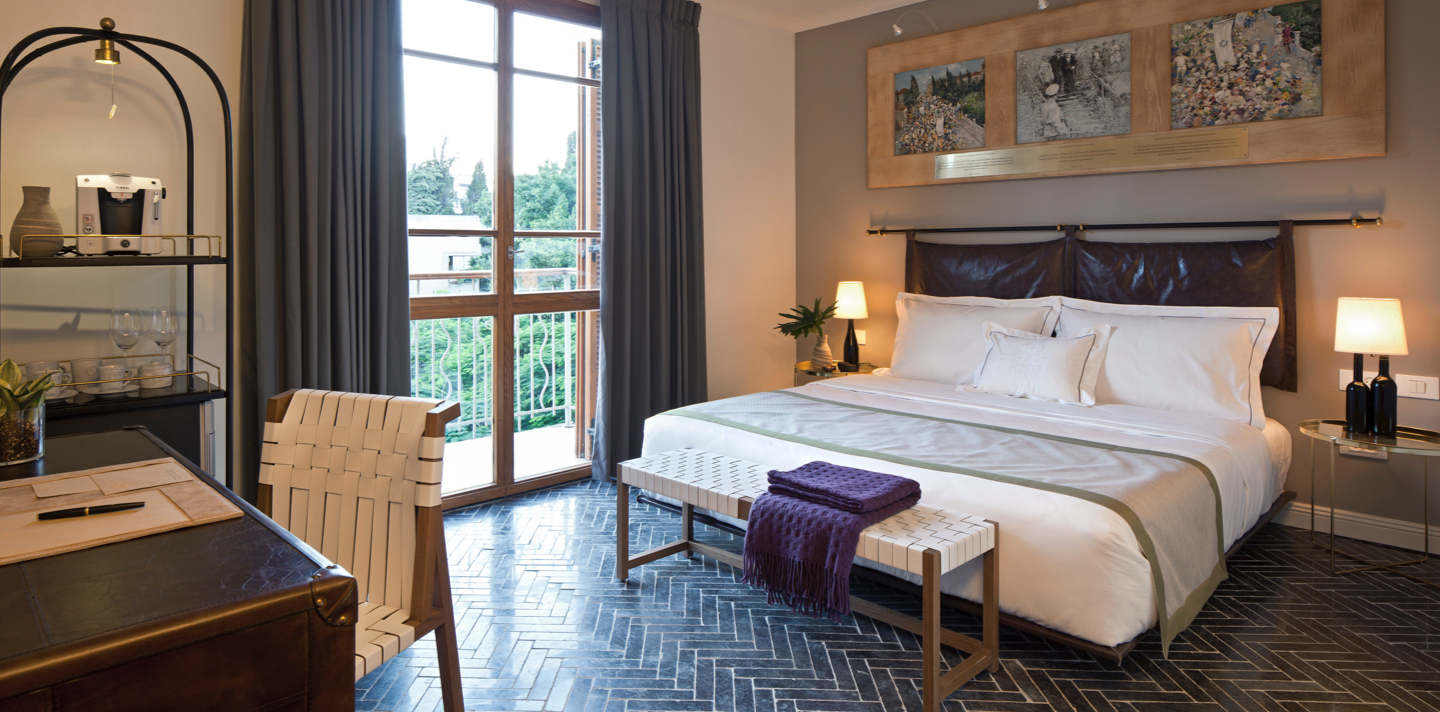 Accessibility at the Rothschild Hotel compound
The Rothschild Hotel is located in a building designated for preservation under the strictest of standards, and therefore unfortunately does not comply with accessibility guidelines as set out by Israeli law and the Municipality of Tel Aviv-Jaffa for this kind of building. There also is no handicapped parking nearby.
Accessibility declaration:
According to data from the Israel Internet Association, 20-25 percent of the Israeli population have impairments that limit their general access, and specifically the access to the internet. To enable easy and convenient use for these communities, whose limitations result from physical, sensory, or cognitive impairments, all pages on this website comply with the W3C organization's web content accessibility guidelines, and the Israeli AA level standard (no. 5568). All pages on this site are encoded in correct XHTML 1.0 Transitional. Correct coding ensures proper operation of the content on devices and sites used by access-impaired individuals (e.g. screen readers for visually impaired users).
Optimal screen display: The website supports a minimal resolution of 768×1024.
Recommended browsers: Internet Explorer, Firefox, Chrome. The website is also suitable for viewing on Android and iOS based mobile devices.
How to change the display:
Text sizes may be changed by using the browser's internal settings. Colors may be changes by pressing the color selection button and choosing one of 2-5 preset options (based on the choice of browser). If you'd like to make additional changes to the size and color of text s on the site, you may do so through your operating system and/or browser. Please follow the color and font changing guidelines in your browser. These changes will affect all sites you view through your browser. Some sites may not respond to these changes, if they are not accessible.
To use the site with a keyboard:
By pressing the TAB button repeatedly, you may scroll through the various links on the page. Pressing ENTER will activate the link. Note, pressing TAB will move you to the next link, and pressing SHIFT+TAB will return you to the previous link.
Additional accessibility measures:
The texts on this site are phrased clearly and simply in order to facilitate reading. The texts include headers for the sake of easy and effective use for the visually impaired, who use screen reading technologies. Behind each button and image on the site is a text description that is read to viewers using screen reading software. The links on site have meaningful names, and are highlighted and underlined.
The site has been tested by Harel Hayat of Inbar Accessibility and has been determined as accessible according to the Web Content Accessibility Guidelines 2.0 on an AA level.